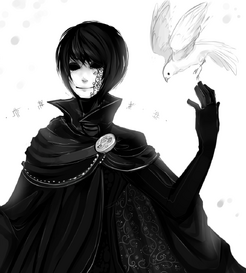 Averus is a god who, along with Kaikii and
Neko
, created the Miniverse and is the main diety of Avaycism, the main religion of the Other World.
Averus has existed forever, never not existing, although up until a point Averus was asleep. When he woke up, Averus found himself in an white, endless expanse filled with nothing but himself. Having nothing other to do, Averus would wonder this expanse aimlessly and alone until he stumbled across something other than himself that existed.
It was an orb-like object that hovering in place, about the size of a beach ball, and completely clear. Upon closer inspection, Averus discovered a entire world within the orb. Fasinated by it, Averus attempted to grasp the orb, but an undefined force repulsed him. Stepping back, Averus named the the orb reality and everything outside of it Imagination.
Averus then became aware of a massive, dormant power within, a power that could be used to create people, civilizations, or even entire worlds. He created two companions and assistants, sisters named Kaikii and
Neko
, and together the three began to create worlds within Imagination.